Ear Emoji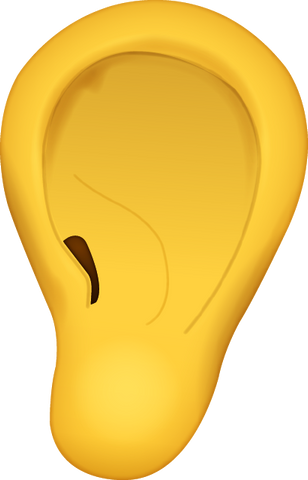 Want something to laugh about? Try sending this emoji to people, and then laugh at their baffled reactions. Just some guy's ear. Because why not? There's not much in this world that's funnier than sending people weird emojis. You know what'd be even funnier? Send this to an ear doctor. If you know any ear doctors, that is. Chances are that you don't. But in the unlikely event that you do know an ear doctor, don't miss your chance to pass along this ear emoji. What could be more fitting? Apparently the professional term for an ear doctor is an "otorhinolaryngologist". My goodness, that is a long word! Now here's a fun challenge for you. Try and see if you can successfully pronounce that. And if that wasn't enough, see if you can say it quickly five times in a row. The ultimate tongue-twister challenge. Anyone who can actually manage to do that deserves a medal.
Please share this page if you enjoyed our emoji 😍
If you would like to use our works for commercial use, please contact us here.