Eyes Emoji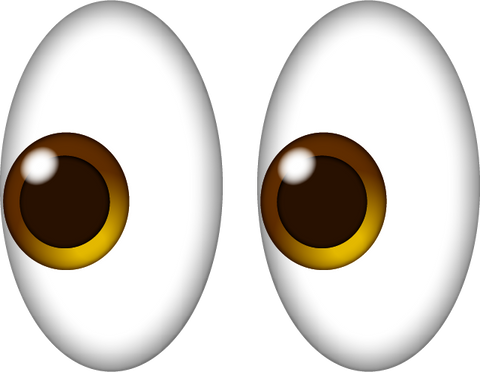 Here's a fellow who's attentive and alert. You can tell because of his humongous eyes that are so humongous, they're shaped more like eggs. I wonder what this fellow is thinking. Probably amazed at just how many emojis there are in this world. Or perhaps he's scared of something? Only I can't think of what it is he might be scared of, but that's okay, because that's where people get to use their imaginations. Maybe this guy is scared because he sees an angry tiger approaching him from a dark alley. Hey, you never know. Or perhaps it is something more plausible than that, such as the emoji realizing his final project for college is due tomorrow and he's still nowhere close to being finished. Or perhaps it's a heat of the moment situation where someone knocked a drinking glass onto the floor and it shattered, startling him. Ultimately, whoever's seeing the emoji can decide for themselves what it is the guy is afraid of. It's your very own eyes in the sky.
Please share this page if you enjoyed our emoji 😍
If you would like to use our works for commercial use, please contact us here.