Detective Emoji - Man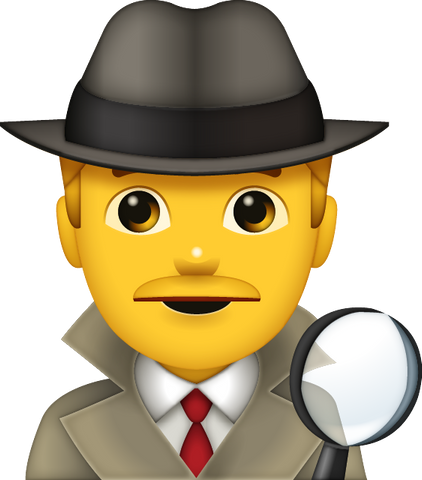 If you send this emoji to people, they'll be able to discern several things about you. They'll know that you're inquisitive, intelligent, insightful, impartial, inventive, and however many other adjectives you can think of that begin with the letter 'I'. People will also know that you're ambitious, resourceful, reliable, and practical. People will also know that you have a well-trimmed moustache, and that you like long brown coats, round black hats, white undershirts and red ties, and magnifying glasses. Agatha Christie would be proud to have this emoji in one of her detective stories. In case you don't know who that is, she's a popular murder mystery/detective novelist. She's especially famous for her detective characters Hercule Poirot and Miss Marple, both of whom have appeared in many novels. Agatha Christie has written plenty of other novels too, some of which are also part of their series, while some are fully standalone.
Please share this page if you enjoyed our emoji 😍
If you would like to use our works for commercial use, please contact us here.