Guardsman Emoji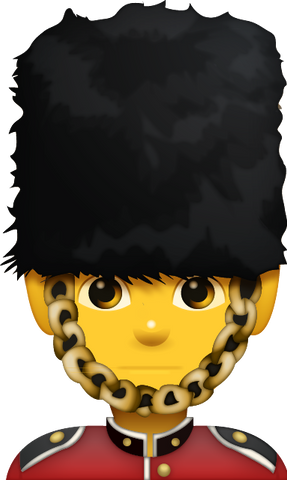 I love this guy's hat. That is like the best hat ever. So furry! I just want to rub my hands all over it. I don't know if he'd like that much, but I don't care. I just want to stroke it all day and night. The red vest is pretty cool too, but the hat especially is the bee's knees. Did you know that those hats are called bearskins? I just found that out today, in fact. I wouldn't mind getting a bearskin of my own. It would really help warm my ears during winter, and I could even wear it to bed at night. A bearskin would also make for a great Christmas present. Seriously, who wouldn't want to find one of these awesome hats under their tree on Christmas morning? Even if you have someone who otherwise isn't a fan of bearskins, it's still an awesome present idea on account of how random and unexpected it is.
Please share this page if you enjoyed our emoji 😍
If you would like to use our works for commercial use, please contact us here.